Virtual Reality Solutions
Virtual Reality Solutions
OR3D offers portable, immersive virtual environments for use with cutting-edge head mounted displays (HMDs) and power walls. Solutions can be setup in most offices allowing users to view and interact with their scan / CAD data whilst sitting at a desk, in a 2m x 2m empty space for full HMD exploration or a 3m x 2m rear projected screen with the power wall and full body tracking.
Virtual reality offers a new and exciting approach to visualising your scan / CAD data in full immersive 3D, true to scale and anywhere you can imagine, be it at the office, factory floor or a client's locale. Users can walk around full 1:1 representations of your products and facilities as if they were there.
HMD
HMD's represent the current cutting edge of virtual reality, offering full immersive 3D, easy portability, 6 DOF and interaction options through wands and hands. Mounted on your head, the entire 3D environment is rendered "before your eyes" as if you are really standing in the environment. HMD's provide true depth and a sense of presence unlike any before, allowing for a more natural viewing of your data in a highly immersive environment. Paired with your hands, simple and complex interactions with your models are easily achieved.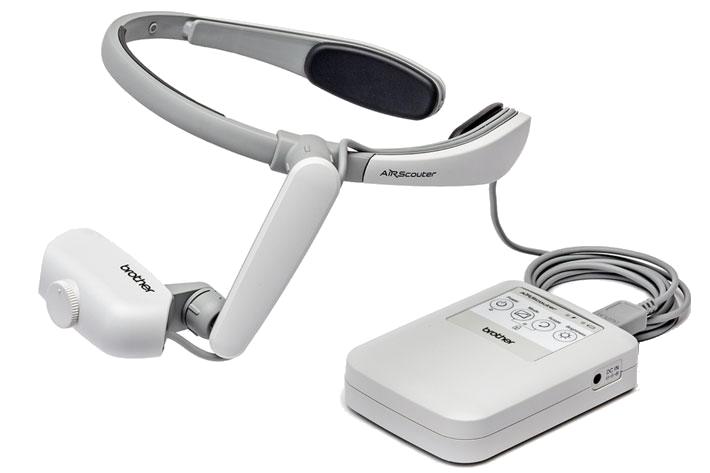 Power Wall
The Power wall is a 3m x 2m rear projected screen that provides full 3D when viewed with a pair of stereoscopic glasses. With the addition of body tracking technology, a user can walk about a projected view of their models and collaborate with large numbers of people viewing the same screen. Less immersive than an HMD but a unique and highly informative way of presenting your models to a wide range of people at once.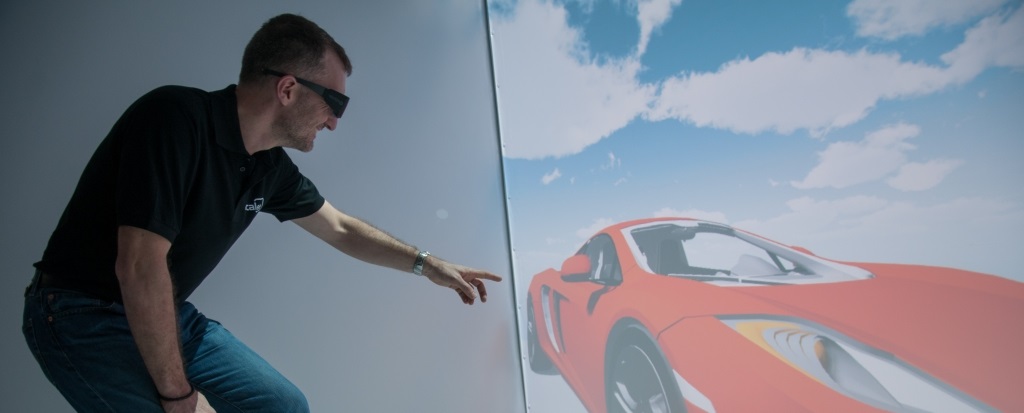 Custom Environments
OR3D offers bespoke systems allowing you to interact with your CAD data. Using a full physics engine, a user can pick up, throw and interact with your CAD in any number of possible ways; clash detection, assembly and destruction and full custom training solutions are only some of the possibilities achievable with Virtual Reality.
OR3D have provided Freddy Products. with a bespoke VR application which was debuted at MACH 2018. The VR attracted a lot of attention to the stand and gave delegates the chance to actually use the machines in a factory setting. The VR was noticed by MTD who interiewed James Earl; OR3D's managing director about it.
MU-VR
New as of 2018, MU-VR (Multi-User Virtual Reality) represents the latest technique for interacting with your virtual environment and collaboration with others. Up to 8 HMDs can be linked together allowing for powerful collaborative interactions; Oversee the training of individuals yourself by joining them in the virtual world, work with your team in simulated training exercises, take clients on a virtual tour and so much more. All the benefits of an HMD and collaboration rolled into one.
---
VR and AR have already been proven out in many multi-national companies and now OR3D brings these solutions to you as part of a project or hired as a service at an affordable and cost-effective price. From full scan -> CAD -> virtual reality to taking your CAD into VR.
Whether it be showcasing at a trade fair, deploying on site, or taking your environment on the road with nothing more than your laptop, OR3D's virtual immersive environments are an economical, robust and compact solution for all industry sectors.
To find out more about our virtual reality solution, please contact us.
You may be interested in:
Virtual Reality Solutions