3D Scanning Services
3D Scanning Services
3D scanning services are offered as a fast and accurate way of digitising physical objects for use in design, inspection and visualisation. The use of 3D scanners can be applied to almost any product or structure to accurately capture the physical shape and dimensions.
We are able to offer the right solution for your 3D project using a range of scanners, offering varying accuracies, resolutions and capture speed. Therefore we can break projects down to the following categories.
---
CT-Scanning is the acquisition of an object by use of an x-ray inspection machine. CT scanning has two main advantages over traditional laser or structured light scanning. The first is the ability to collect incredibly accurate data with point spacing achievable in the single figure micron range. The second and more important is that it can inspect the internals of a part which are not possible to inspect with any other device. Non-destructive testing insures a more reliable and information rich inspection report. Additional benefits are the ability to inspect porosities, fibre analysis and cracks.
Capture internal details
Very high resolution
Unaffected by transparent materials
Below are two examples of CT scanning.
The screw is mesh data created from the DeskTom CT Scanner.
The video on the right shows a scan used to check an assembly.
---
Short Range 3D Scanning
This is how we describe scanning objects or components up to the size of a car, and is done with a portable CMM, structured light system or handheld scanner, depending on the requirements. The advantage of using these systems is that we can capture the objects with a much higher resolution and accuracy than is achievable with the long range scanners which are often used in surveys.
The typical accuracy we can achieve with this these systems is around 60 microns (0.06mm). This makes it very well suited for reverse engineering or inspection of engineered components, but it also used on larger objects such as vehicles where the increased accuracy and definition in the scan is required.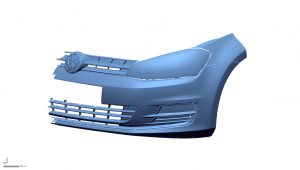 ---
Large Volume Metrology
Using the latest Surphaser laser scanner, we can scan larger objects with submillimetre accuracy. The scanner gives us the ability to scan the objects quicker than using the portable CMM whilst maintaining a high level of accuracy, it also offers the flexibility of being able to scan from a distance.
The scanner has a working range of up to 110m, although we typically scan from under 50m from an object. This gives us a higher point density enabling us to capture smaller details with submillimetre accuracy.
The scanner also captures colour allowing us to provide coloured scan data.
Large volume scanning is useful for:
Entire vehicles or larger panels
Aircraft
Building Facades with high details
Large historical artefacts
---
Long Range 3D Scanning
Used for scanning large objects
Creating detailed surveys
Inspection for civil engineering projects
Plant refits
Monitoring of topography or structures
The 360 Panorama below is an interactive video that allows the user to manipulate the view during the video or when paused. The video works on both mobile and desktop devices, the quality can also be changed using the HD button.
Further Reading
This service is available at Bristol, Chirk or at the client's location. To find out more about 3D scanning services, please contact us.
You may be interested in:
3D Scanning Services