X-Ray Inspection Through The Manufacturing Process
13th February 2023
1 min read
Design
Using a Computed Tomography data set from a CT scanner, a point cloud or mesh can be generated. The point cloud or mesh can then be put into Geomagic Design X (reverse engineering software) and a CAD model can be reverse engineered or surfaced. The benefit of using CT acquisition is that the ability to generate the point cloud is completely independent to the complexity of the part. Points are generated on the boundary between matter and air regardless of whether this is on the inside or outside of the part.
Reverse engineering can be completed by the client when they purchase Geomagic Design X or we also offer it as a service.
Manufacture
The accuracy of a manufactured part can be assessed using data from a CT acquisition. Feeding the mesh or point cloud into Geomagic Control X (inspection software) along with the original CAD model for the part or a design intent model created in Geomagic Design X, an inspection report can be created. It is possible to asses everything from 3D shape, 2D cross section as well as GD&T.
The X-Ray inspection machine can be configured to make acquisitions under different environmental conditions such as temperature or pressure. Thus, it is possible to assess parameters such as thermal expansion.
Similar to design, this analysis can be completed by the client or as a service offered by us.

Video showing the construction of a toothbrush through reconstructed slices
Quality Control
Radiographs are quick to acquire and so are useful for a near inline inspection process. CT can be used to perform more in depth quantitative checks such as metrology or porosity analysis. Fibre orientation and particles in composites can also be assessed. You can find out about how radiographs are acquired here.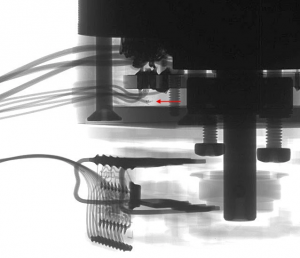 Radiograph showing a broken connection within a component
Customer Returns
Non-Destructive Testing is essential in this case. Dismantling the part or cutting it open to perform the inspection can hide the reason for the fault. Radioscopy, Tomography and Laminography can all be used to locate the fault and asses where and why the fault has arisen.
You may be interested in: