Project Icarus World Record Attempt
Project Icarus World Record Attempt
We are pleased to showcase our innovative 3D scanning solutions to support the Icarus Project, a student design project at the University of Southampton which will culminate in a world record attempt for the highest, longest and fastest freefall jump wearing a wingsuit.
We were approached by the Icarus Project team to assist in the wingsuit development stages.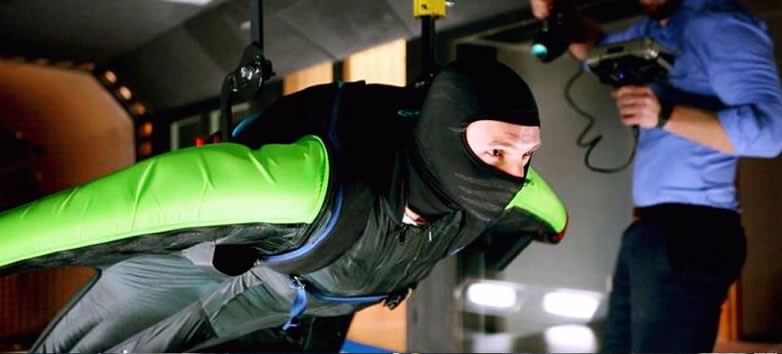 The challenge was set by the Project Icarus team for 3D scanning in a wind tunnel
James Appleby, senior applications engineer at OR3D
Using Mantis Vision F5 scanners, we captured three wingsuit designs under flight conditions in the wind tunnel at the University. We then processed the scan data from the wind tunnel tests into 3D CAD models using Geomagic Design X, a specialist scan to CAD application, and Geomagic Freeform Plus, an organic modelling package. The CAD models will be used by the project team for CFD (Computational Fluid Dynamics) analysis.

James says, "Using the data captured we were able to produce a mesh model, which was then edited in Geomagic Freeform Plus as digital clay using a haptic device to manipulate the 3D model. This enabled us to edit any minor details we were not able to capture with the scanner in wind tunnel conditions. The Freeform Plus models were then converted and exported as solid 3D CAD models for further analysis.
"We knew the Mantis Vision F5 scanners would give us the information we needed in normal scanning scenarios. However, scanning in a wind tunnel was a world first. The scan results were fantastic and vindicated the performance of the F5 scanners as true rugged, 'in field' pieces of equipment.
Getting high quality scan data was half the battle. Without 3D Systems Geomagic software packages, we would not have been able to provide the deliverables required for the Icarus team."
The wingsuit is in development stage with plans to undertake a test flight in spring 2016.
For more information and further reading: