Automotive
Automotive Case Study
The Client
Fred Howat is the owner of a 1979 Volkswagen Passat he lovingly calls "The Mustard Machine", which he believes is one of the last left in the United Kingdom. Being one of the last in the UK means that spare parts are now difficult to come by. He is currently restoring his pride and joy to its former glory and has approached us for help.
Summary
Fred approached us when he was let down by Volkswagen for a replacement part. The part that needed replacing held down the gear lever gator, one of its 6 clips had snapped off and had been lost. With no way to repair the part or to source a new one from the manufacturer, Fred decided to contact us. Having already completed numerous similar projects, we were happy to help.
The Solution
Upon receiving the broken part, wedigitised it with a Romer Arm, accurate to +/-0.06mm. The data this produced was highly detailed and included all of the imperfections of the part itself. Due to the manufacturing process and the age of the part, it was twisted and bent. The data from the arm was captured directly into Design X, the premier reverse engineering software from Geomagic. The part was then reverse engineered parametrically back to the part's design intent. This meant that the missing clip was re-added and the part was redesigned square and straight.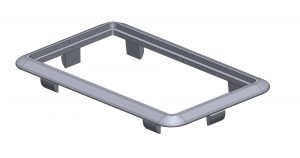 With the CAD model now created, a new part could be manufactured using additive layer manufacture. The new part was reproduced in ABS. This strong material would ensure that the new clip would last for years to come. The part fitted the gaiter well and the assembly looked perfect.
Client Comments
"No more breaking, and gear changes feel much better than before. The cockpit finally looks finished!"